Secrets Of Diving East Coast Thailand Get Away From Expectations!
When it comes to globally famous diving destinations, you rarely hear about Diving East Coast Thailand amongst the few well-known locations that stand tall above all others.  Get away from expectations. These would be the Red Sea, the Barrier Reef, The Maldives and of course the west coast of Thailand, largely the Similan islands!  Now, these locations are known for their exceptional visibility and possibilities of larger pelagic life like Whale sharks or Manta Ray. But is the best diving in the world solely judge on these two factors?! It feels like it some days.
The East Coast of Thailand or the Gulf of Thailand is sometimes overlooked as a prime top 10 dive destination because sure… It's a gulf, the water exchange and visibility is not quite super clear like these other locations, nor are the Larger Perlargic aquatic life as common in these waters, BUT there is still great weather, amazing culture and the best welcoming attitude of the Thai people all along the Eastern seaboard of Thailand too!
East Thailand offers 4 major scuba diving destinations that are away from the massively popular and some might argue, overcrowded dive spots such as Phuket or the Similan islands. These Diving East Coast Thailand destinations are Pattaya, Samae San, Rayong and Koh Chang.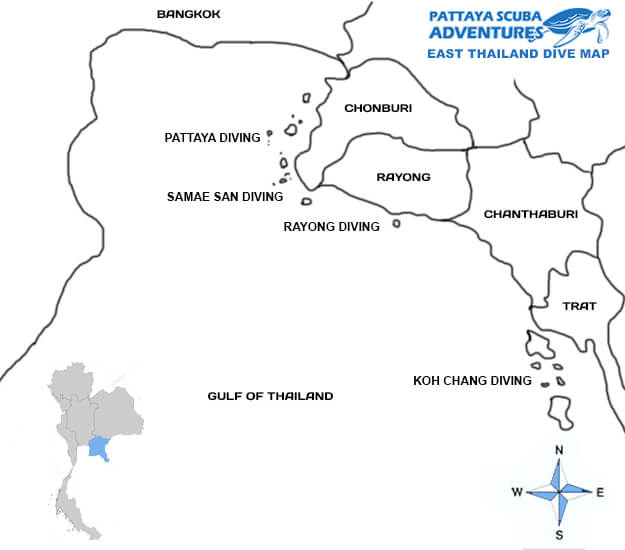 All four Eastern Thailand dive destinations offer a wonderful scuba experience, great marine life and beautiful warm seas to plunge into. As a tropical country with a dry and wet season, Eastern Thailand has a unique geographical quirk that makes it suitable for diving year around. The southern peninsula of Thailand has a distinct East coast-West coast split, whereby when it's the rainy season on one side it's the dry season on the other and vice versa. This means Thailand is perfect for diving year-round.
East Thailand Dive Destinations to be Proud of!
So, If we were to look at alternative dive destinations which offer a totally different set of conditions and secrets to behold, not to mention a price tag that doesn't break the bank whilst still exploring Thailand on a scuba adventure let me introduce you to East Thailand Dive Destinations and What Each has to offer you on your next diving holiday.
Whilst you are deciding which Diving East Coast Thailand Dive Destination You should visit, seriously consider checking out Diving Pattaya, Diving Rayong, and Diving Koh Chang!
Why Dive The North East Coast of Thailand!?
Explore new dive destinations and experience what the local guide love about scuba diving in their backyard. You will discover new things and find personal experiences. It's not all about just looking for amazing viz and huge fish you might never see anyways!

Macro Life, The Gulf of Thailand does a small thing. Really small things! Nudibranch, Seahorse, Shrimps, Slugs, critters that you never even knew existed! Expand your diving and take a walk on the small side.

Wreck Diving! Although you can find wrecking in Thailand from West coast to east you will not find more wrecks in closer proximity than Pattaya, Samae San Rayong, and Koh Chang. There are 6 Wrecks that can be visited quite often by advanced divers. HTMS Kut, HTMS Khram, HTMS Mataphon are awesome Pattaya Wrecks! The Hardeep Wreck is quite special in that it is a WWII wreck site from 1945 and the other, HTMS Chang is Thailand Longest Shipwreck at 120m!!!

Get away from the crowd and order off the main scuba menu.  Variety is the spice of life. Pattaya Islands, Samae san islands, Rayong… Are barely visited, you might see another diver underwater or not some areas you are the only dive boat. Some of these islands are only visited once a week or month! These are special places, maybe you would like to say you've been somewhere that very few have not yet? Pave the way and enjoy the exploration.
Eastern Thailand Diving Wait!!… You Can't Believe All You Hear!  
Diving in Pattaya and scuba diving in Samae San and Koh Chang are often overshadowed by what you hear about diving in the Andaman Sea or on Similan Liveaboard trips. The Dive Destinations in East Thailand, such as Koh Chang and Pattaya often get a bad rep.  This is mainly due to the fact that many divers purely rate dive locations only on certain factors. How good is the viz? and Can I see Huge Aquatic life like Whale Sharks and Manta Ray? It is true that diving Pattaya, Samae San, Rayong or Koh Chang doesn't guarantee aquarium-like conditions in regards to visibility. And yes it is also true that it is entirely unlike you will bump into the gentle giants such as Whale shark or Manta ray.. or is it!?  
I've run into so many divers that were told, don't dive in Pattaya the corals are all dead there is nothing to see! Wow.. it saddens me, perhaps some divers have had less than good experiences with certain Pattaya dive centers or dive guides and not been shown what's on offer… But to the fact, this is simply not true! Granted not every day is a fantastic day and not every dive is the absolute best! But where or when is it?! Keep an open mind and enjoy, you might find yourself surprised! 

So Much More to Diving East Coast of Thailand
The East Coast of Thailand offers some coastal towns with fast access to Thai islands out in the gulf.  These Islands have some of the most impressive varieties and combinations of coral reef in all of Thailand!  The Coral Reefs that have been kept well offer a multitude of types of fish and marine life including tons of macro life, yes, smaller but still abundant fish stocks and believe it or not, even Whalesharks, the world's largest fish but sure, we don't see them every day.
Best Way to Travel and dive Thailand's East Coast
It is really easy to get to Pattaya from Bangkok. Within 2 hours of landing, you can find yourself in the most vibrant, exciting city in Thailand. You can use it as a base to get steady and visit the Pattaya islands via daily dive trips and discover wreck diving Pattaya
The Pattaya Dive Centers also run Samae San Dive trips usually at weekends, so whilst staying in Pattaya, you can also take a scuba adventure 50min down the coast and dive around the Samae San islands as well as visiting the Hardeep wreck before been brought back to your hotel in Pattaya and chilling out in the town that evening.
If you Join us at Pattaya Scuba Adventures Diving East Coast Thailand, you can also visit Rayong diving site on a day trip in the same fashion, we run these each weekend during the season from October to March and we are the only Pattaya Dive Center to do this!
So if you choose Pattaya as your hub for your East coast diving trip you can access 3 of the main areas with ease.
The final and most perfect way to end your trip, talk to us about a special Koh Chang Scuba Adventure. After a few days to a week or so in Pattaya exploring the myriad of activities, restaurants, malls, and sunsets you might be looking for one last window to relax and we can send you off all ready to dive in Koh Chang!
Koh Chang is one of the top 3 most popular islands in Thailand and the perfect way to end your scuba adventure with a relaxing island atmosphere whilst diving the national park and Thailand largest shipwreck.
Amazing Value and Experience
Diving the East coast of Thailand from Pattaya can meet your needs without breaking the bank.  Tripadvisor has hundreds of reviews from divers and an overwhelming number are very positive about their experiences diving Pattaya and Koh Chang especially the long-established experience dive centers that treat you like family.
Dive trips run throughout the year.  But the main scuba diving season is from November until March. You're usually guaranteed pretty good visibility, around 10 – 15 meters, and calm seas.  ( The ocean can be particularly clear in early November, at the end of the rainy season, when visibility reaches 20 meters. ) Whilst Diving Pattaya or diving Koh Chang will never compete with the Similans or the Maldives as far as the visibility goes, with the right guide and dive center you will see far more living coral here, tons of macro life and an equally all the same types of reef fish.  
Certified Diver checkout our Dive Packages Here or Read More about our dive sites
For Diving East Coast Thailand.
Are You a Beginner?! The PADI Open Water Diver course is the world's most popular scuba diving training course you can learn to dive with us here!