Are There Any Sharks In Pattaya?
People always ask,  "Are there any Sharks in Pattaya?" There is no doubt that Sharks are dwindling in population in Thai waters but sure they are there. And depending on your stance with Sharks, we can either say don't worry about them or unfortunely, you will we only see them from time to time. Sharks are not the bold and brash man-eaters portrayed in the movies! Our local sharks consist of Blacktip reef sharks and Bamboo Sharks mainly. Every once n a while we are graced with the amazing Whaleshark too!
Bamboo Sharks:
Pattaya like most of Thailand has suffered greatly with many sharks lost to the fishing trade. One of the remaining common sharks found in Pattaya is the Bamboo Shark and they can be found most commonly sleeping around the coral reefs during some day time dives!
Bamboo Shark Facts
Brown Banded Bamboo Sharks (Chiloscyllium punctatum) are not very big in size. They rarely grow more than 4 ft in length which in Shark terms is pretty small!
The shark gets their name from the dark brown bands around its body. In fact, it is deep brown over a light brown body. The color contrast is higher in their juvenile stage but begins to fade as they grow into adulthood.
They can be found in many areas of Asia, living mainly only the sea bed, preferring to hide in the safety of coral reefs and rocky areas, hunting at night.
Bamboo Sharks live for about 25 years, although are threatened by commercial fishing. long lining, and other unsustainable fishing practices.
Currently, the Bamboo Shark has only one area where it is protected, the East coast of Australia in several marine parks. We hope that other countries will follow suit, so we can enjoy this amazing species.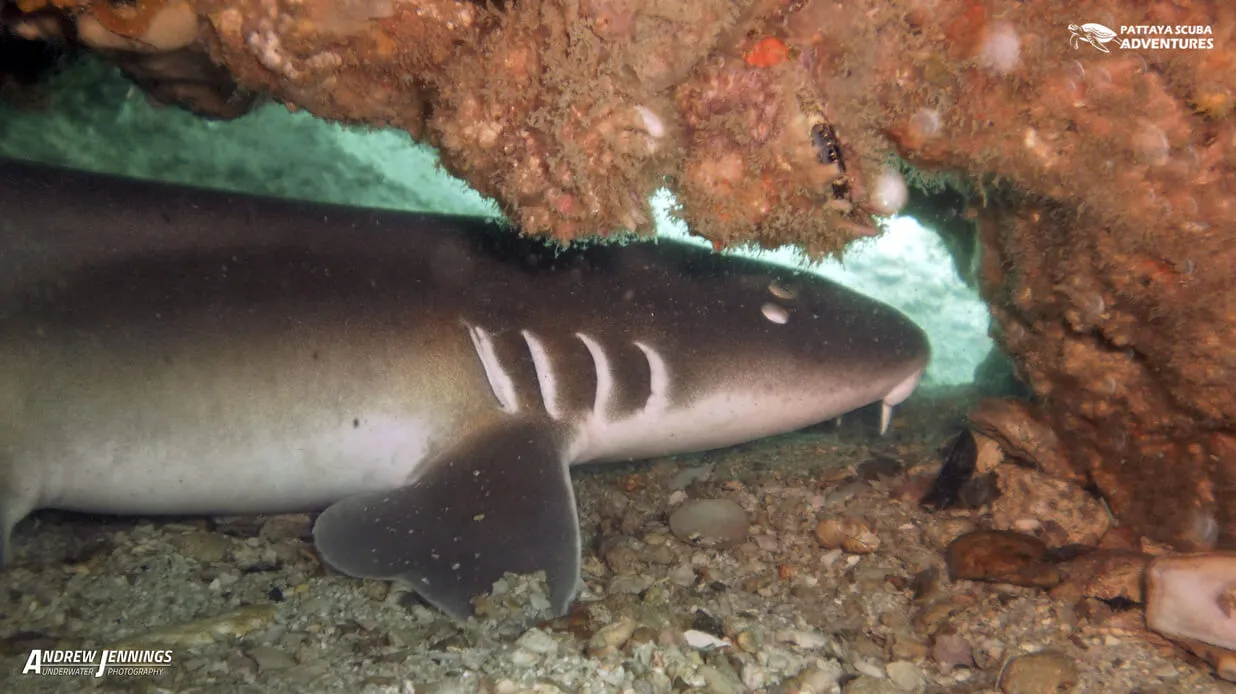 Blacktip Sharks:
You can see Blacktip Sharks in Pattaya occasionally. They are found around the Pattaya far islands or the coral reef of Samae San. Very shy natured, Blacktips will not just allow divers to approach them. 9/10 times the blacktip sharks see or hear you first and stay well away out of sight.  It's actually easier to see this type of shark whilst snorkeling or rebreather diving since on scuba you make a very loud sound footprint with your bubbles which the Blacktips can sense and hear a mile away and avoid.
Blacktip Shark Facts
The blacktip shark (Carcharhinus limbatus) is a species of requiem shark, and part of the family Carcharhinidae. They grow to about 1.5 m in length which in Shark terms isn't so big
The blacktip shark gets its name from the have black tips or edges on the pectoral, dorsal, pelvic, and caudal fins.
They can be found in many areas of Asia, cruising mainly reef areas, Timid and skittish, blacktip reef sharks don't usually pose a threat to humans. But their shy behavior does make it difficult to get close to them while scuba diving.
Blacktip reef sharks are viviparous — producing live pups instead of eggs — and give birth to up to 10 pups each year. The pups reach maturity at an average age of about 4 years old for males and 7 years old for females. Most live to 13 years of age, sometimes longer.
The International Union for Conservation of Nature has listed the blacktip reef shark as Near Threatened.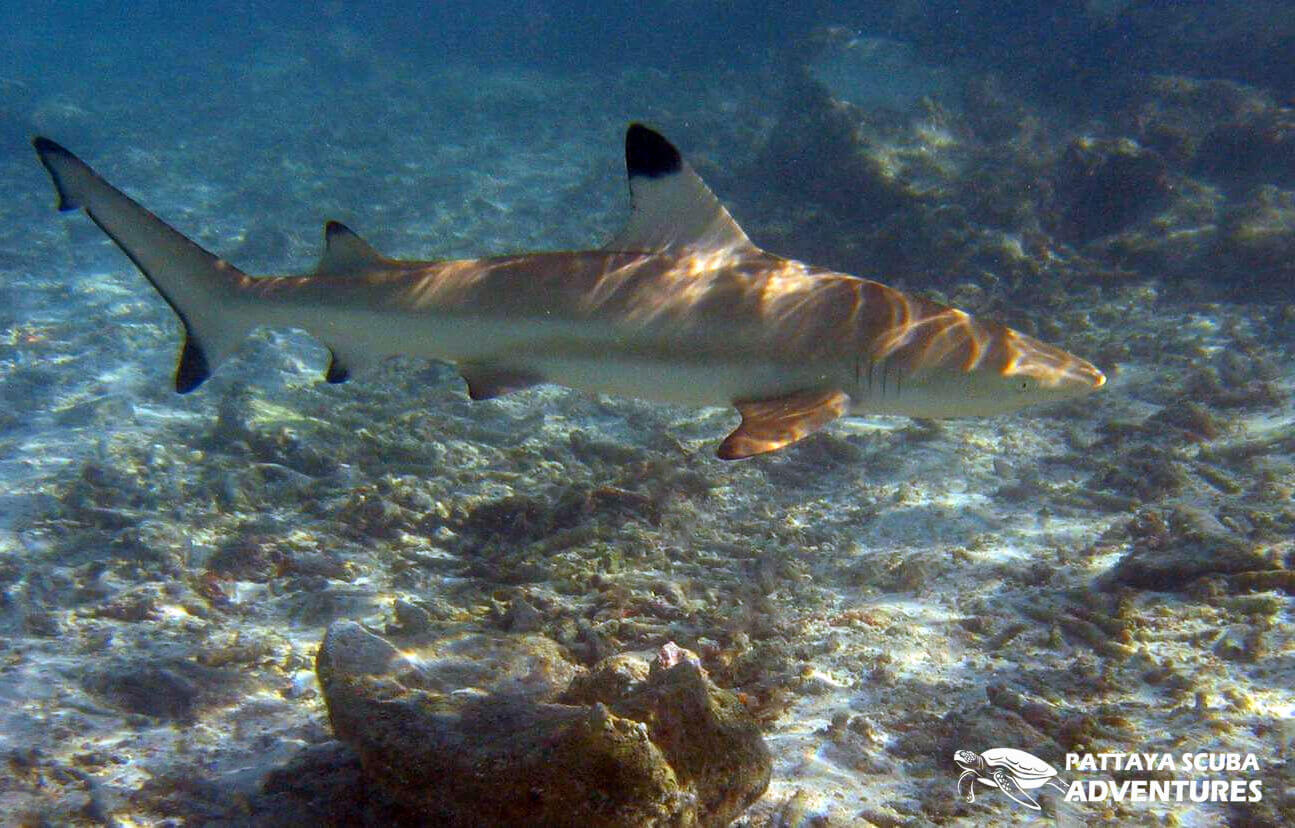 Whaleshark:
Whaleshark, the unicorns of the sea make a magical appearance around the Pattaya islands Samae San each year. Mostly spotted by boat from the surface. Both divers and snorkelers enjoy their company when blessed with the luck to see one. Mostly juvenile whale sharks show up around Pattaya, which are around 5-6m in length but sometimes big momma comes around and these fish are about 12m long! the size of a bus!
Whaleshark Facts
Whale sharks are the largest fish on the planet. Whale sharks are in no way related to whales. Although they are sharks, they are very docile and pose no real threats to humans. Whale sharks can reach up to 14m in length and weigh as much as 12 tons. That's 24,000 pounds or nearly 11,000 kilos!! People sometimes get scared at the sight of a giant whale shark because they don't understand it is harmless. Whale sharks are filter feeders and sieve plankton through their gills for much of their nourishment. They also sieve squid, krill, and small fish.
Whale sharks aren't the fastest swimmers, reaching speeds no higher than 5 kmph. They swim by moving their bodies from side to side, unlike other sharks like the great white, who just use their tails to swim. If you get lucky to swim or dive with a whale shark. Remember to be respectful when you do and give it as much as 3m clearance so as not to distress it and or injure yourself!  Although not so common, if you wanted to hedge your bets whale sharks migrate through Pattaya between Late September to Late January.